RECAPITULATION: My sincerest thanks t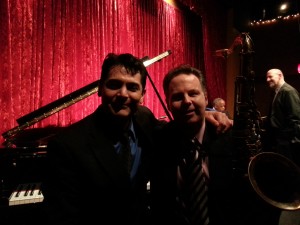 o all of you who attended the Harry Allen show December 2012 at Jimmy Mak's – you fueled the music. It was great to reconnect with Harry again after so many years. We both recalled playing in Oregon 9-10 times together from 1995-2005, but haven't been able to line up anything since. Many thanks to Ralph Lodewick for starting it all back in the 1990's, and a special thank you to Rebecca Kilgore for bringing Harry Allen out this time around – I can think of no better way to end the year than continuing to share bandstands with Harry.
Harry started off the night with "But Not For Me", and Mel, Ed, and myself instinctively started off the tune following Harry's countdown with a variation of an interlude made famous from the great pianist Ahmad Jamal's version of the same tune. The room was very attentive and came to ecstatic admiration after Harry's first solo. I couldn't help but think right then; "This is going to be a splendid evening", and sure enough, it was.
We also performed a very tender "Nearness Of You", as well as a rapid fire "Strike Up The Band". Rebecca Kilgore sitting in the audience joined us for the last two tunes of the first set augmenting the quartet with her charm, and vocal sweetness on, "How About You", and "Exactly Like You".
I must admit selfishly though that the highlight for me came on the second set, when Harry reminded me of an idea I came up with whilst chatting with him on the phone about details of the gig a few days prior. I had told him that I recently watched a Bill Charlap YouTube video where he performed Brubeck's "The Duke" and went right into Ellington's ("Duke's") "Sophisticated Lady". I told Harry about the tragic loss of a friend of mine's sister whose last recording (she was a very gifted vocalist) included the tune "I'll Be Around". Anyways, to make this a bit shorter, I suggested that we use that tune as a solo piano piece, much like a verse to set up a rendition of "I'll Be Home For Christmas". The words to both songs have a similar theme, and since we both agreed the holiday season seemed especially reflective, it was a go. That meant a lot to me in a "reflective" moment, and I thought to myself, the older I get, the more I realize it's moments like this that make life rich.
Sincerely,
~Tony Pacini
P.S.
Up next, Harry and Rebecca are guests on my radio show ("YES!") "Jazz Connections" this Friday 11am-12noon K.M.H.D. 89.1fm (stream it online anywhere in the world at www.kmhd.org).

Oh, and by the way, Harry and Rebecca are doing Rebecca's critically acclaimed Monroe & Garland songbook at the Bijou Cafe this Friday. Similarly, my trio is performing at Wilf's Restaurant this Friday as well, but hopefully those two will crash my gig and sit in since my gig goes a little later. If you're torn about what to catch, catch Kilgore, then me later, or any number of great, world-class jazz talent this town has residing and performing within itself, and, at the least, swing by Cassidy's Bar 'round 'bout midnight as surely three or four jazz groups will converge there (our hang as they say) after our gigs, tell musical war stories, eat, etc. Hang out with us and get to know this "Jazz Oasis" called Portland. There's a lot of creativity and "jazz-culture" here, and it's accessible and beautiful – please join us and be a part of it.
Additionally, I've good news, Harry and I are already talking about a follow up performance on the last Wednesday in June of 2013. I'll keep you posted (http://tonypacini.com/). Once again, thank you beautiful, kind ears – You make it special. ~Tony
Tags: Ahmad Jamal, Bijou Cafe, Bill Charlap, Dave Brubeck, Ed Bennett, Ellington, Exactly Like You, Harry Allen, I'll Be Around, I'll Be Home For Christmas, Jazz Radio, Jimmy Mak's, KMHD Radio, Mel Brown, Nearness Of You, Portland Jazz, Portland Jazz Pianist, Rebecca Kilgore, Strike Up The Band, Tony Pacini, Tony Pacini Trio, Wilf's Restaurant